Darégal presents SUN PESTO, the new Spring/Summer Collection of SQUEEZE sauces.
Always looking to offer new culinary experiences, the Darégal Culinary Experts have put a unique twist on the traditional pesto recipe by using sunshine-inspired ingredients from some of the most iconic summer destinations such as Italy, Sicily, Greece, Cuba and Thailand.
Unique and ready-to-use, our SUN PESTO sauces offer an alternative to the traditional « ketchup, mayo, mustard» trio and bring a ray of sunshine into classic snack food recipes.
5 SUN PESTO sauces are now available:
SUN PESTO Genova – Combining the sweet and floral notes of Genovese basil with the stronger flavours of garlic followed by the round notes of cheese.
SUN PESTO Hélios – Tasty flavours of olive oil and feta cheese are perfectly complemented by the intense notes of the aniseed basil. Spearmint brings a fresh note to the sauce.
SUN PESTO Sicilia – Light and delicate, this sauce, with crunchy sunflower seeds, brings together the round notes of cheese with the camphor notes of sage. A touch of lemon brings a citrus note to the sauce.
SUN PESTO Ko Thaï – This sauce blends the light aniseed and pepper notes of the Thai basil with the fresh notes of lemongrass and the spicy notes of chilli.
SUN PESTO Cubana – Sweet and citrus notes of lime are perfectly blended with the freshness of coriander before the hot and lingering chilli flavours are revealed.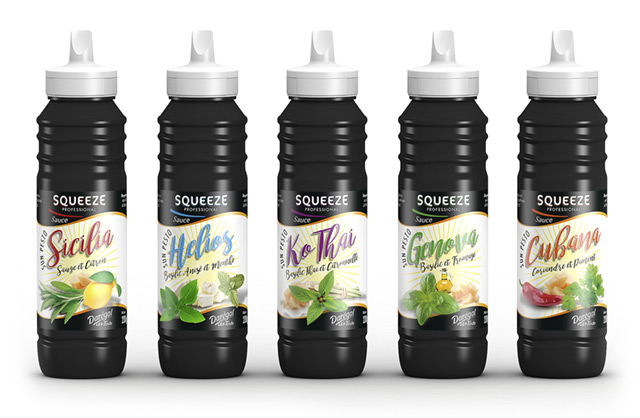 Discover our summer inspired recipes with SUN PESTO:

Usually conditioned in 400g bottles, the SUN PESTO sauces are now available in a 'mini SQUEEZE' 230g format, allowing for a wider variety of use in your snack recipes.
Our culinary experts are always happy to help so don't hesitate to get in touch.