Inspired by aromatic herbs, the Darégal culinary experts have created a range of sauces which are naturally rich in flavour and most importantly naturally delicious! They selected the most intense culinary herbs by Darégal, blending them with the top ingredients, all guaranteed without additives, without preservative and without palm oil.
Based around a range of staple recipes such as the Pestos, L'Orientale and La Rustique, the Darégal culinary experts regularly develop new natural and tasty recipes around a specific theme, constantly offering unique flavours for all your snack food recipes.
In order to meet consumer demands, two new collections are added to the range each year with ever more diversity and added value for snack food industry professionals.
THE RANGE
– SQUEEZE: Authentic and 100% natural, the SQUEEZE range is divided into three themes. The Classics such as the Pestos, La Basilic and La Persillade, the Country range including La Rustique and La Provençale and our Travel inspired range such as La Nordique and La Chimichurri.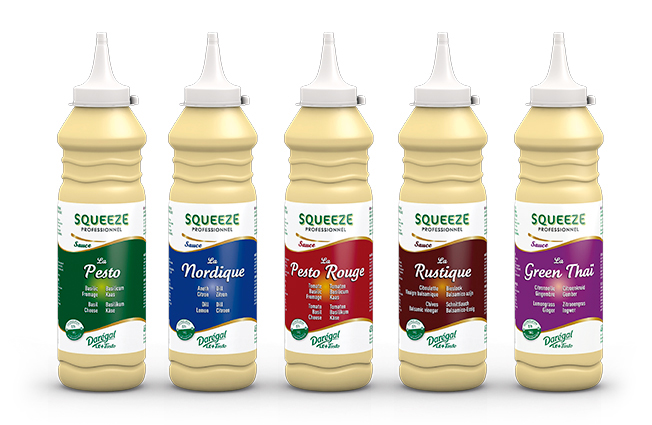 – SQUEEZE PREMIUM: The Darégal culinary experts created this range of contemporary sauces to complement the most traditional and festive ingredients of French cuisine such as Foie Gras, Magret de Canard and Saint-Jacques scallops.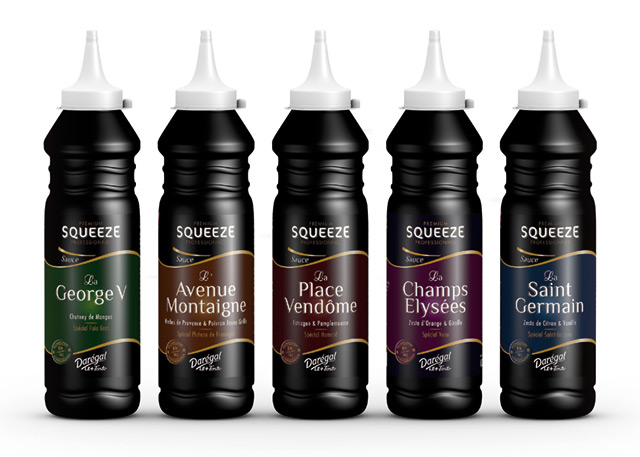 – THE URBAN TRUCK: a range of sauces inspired by the Street Food trend, the Darégal culinary experts put their unique twist on the most famous sauces used in snack foods across 5 countries: France, England, the USA, Vietnam and Inda.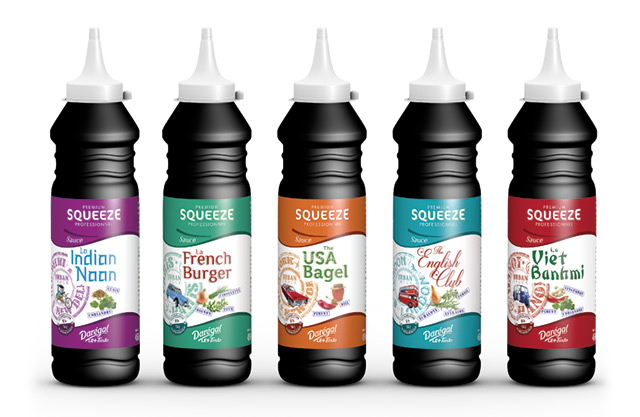 – THE GREAT VINTAGES CHILLI: created from different varieties of chilli, these hot sauces with their delicately spicy notes are sure to add some heat to your snack food recipes.
– THE GREAT VINTAGES BASIL: Darégal's culinary experts looked back into the very origins of basil and selected the top 5. Subtle and sophisticated aromatic values are the key words for this Great Vintage Basil Collection.
– The New Collection SUN PESTO: this new Spring/Summer 2017 range puts a unique twist on the traditional pesto recipe, bringing a ray of sunshine into the snack food industry with the use of top ingredients from iconic summer destinations.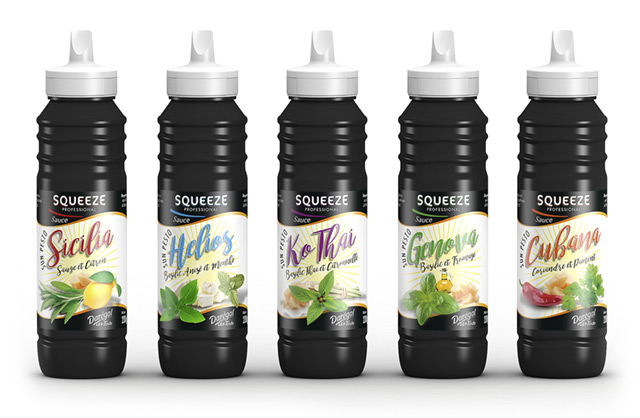 Ready to use, the different SQUEEZE sauce recipes can be used hot or cold in order to add variety and new flavours to your sandwich, salad, pasta, pizza and canapé recipes.
An economic and tasty solution, SQUEEZE sauces bring new flavour palettes to the food industry in accordance with the latest culinary trends: Natural, Freshness and Exoticism.
Our culinary experts are always happy to help so don't hesitate to get in touch.