Daregal's latest flavourful innovation, the Crayons de Coulis received the 2017 LSA Award in the « frozen goods » category during an elegant Awards Ceremony in Paris at the Théâtre des Sablons last week.
The first range of Culinary Herb Coulis is the result of a fruitful encounter between three starred Michelin Chef, Christian Le Squer and Darégal, world leader in culinary herbs.
Presented in a convenient bottle with a precision tip, it's easy to use the Crayons de Coulis as they give free rein to your culinary and artistic creativity!
The Crayons de Coulis range of 4 varieties draws its inspiration from nature's strengths and wealth of flavours:
Basil Crayons de Coulis: This rich green coulis highlights the fresh, floral and sunny notes of Basil.
Beetroot and Ginger Crayons de Coulis: This beautiful deep purple coulis reveals the sweet notes of Beetroot associated with the sharp notes of Ginger.
Yellow Pepper and Lemon Thyme Crayons de Coulis: This sunny yellow coulis blends the fresh and delicate notes of Lemon Thyme with the sweetness of Yellow Pepper.
Red Pepper and Rosemary Crayons de Coulis: This intense orange coulis blends notes of rosemary with the sweet flavours of red pepper.
A jury of 40 industry professionals from the retail industry, composed of distributors and experts in the food and non-food sectors, chose to award 50 innovations for this 38th edition of the "Trophées LSA de l'Innovation".
The jury was quickly taken by the vibrant colours, the strong flavours and the ease of use of the Crayons de Coulis.
Check out our finest Crayonnés Festifs inspirations below and let your creativity run free to amaze your guests!
Find the full range of Crayons de Coulis available in Picard stores.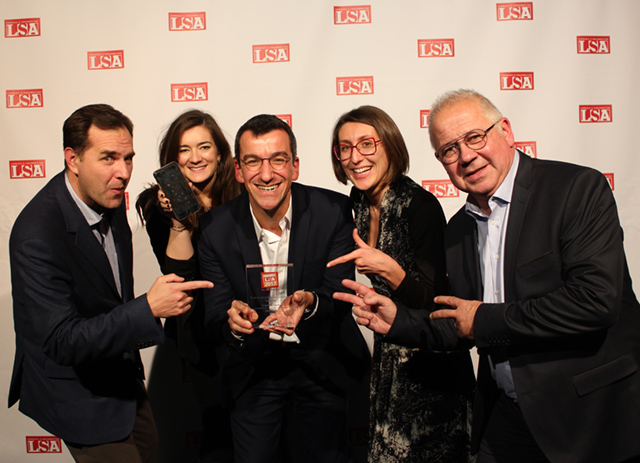 From left to right: Jean-Philippe Géry (Commercial & Development Director), Sophia Hélène Price (Digital Marketing Manager), Charles Darbonne (President), Mélodie Azun-Lopez (Development & Innovation Manager) and Fabrice Oger (Sales Director – Retail France & Benelux).