Darégal, the world leader in culinary herbs, is expanding its "Ready to Cook" range of culinary herbs, bringing even more flavour to everyday life.
Exotic Culinary Herbs:
Always attentive to the trends and expectations of consumers, Darégal brings even more diversity with its exotic "ready-to-use" range that simplifies international cuisine and brings travel to the consumers' dishes on a daily basis.
The art of cooking is increasingly popular in our daily lives. Expectations for novelty and diversity are strong. In response to this demand for new flavours, the Darégal Exotic range brings out the creativity of the cooks by bringing an exotic touch to their preparations.
Ready to use without defrosting, these "Lil' Boxes" of culinary herbs save valuable time by avoiding the chore of washing and chopping.
Thai Basil
Red Pepper
Lemongrass
Shiso
Ramson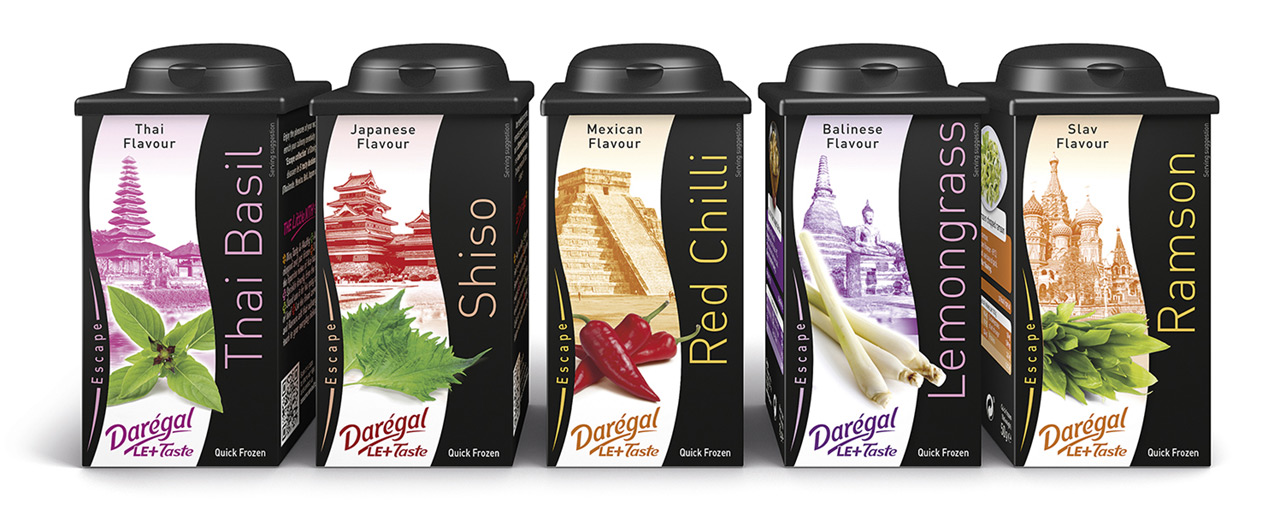 Always looking to facilitate and limit preparation time in the kitchen, Darégal presents its latest recipe, the Asian Blend: a delicious mix of Thai Basil, Cinnamon Basil, Coriander, Lemongrass and Ginger which will bring an exotic touch to all your dishes including woks, meats, sauces, … Discover the full range of 100% natural blends, which will sublimate your recipes.

Organic Culinary Herbs:
Always on the lookout for more Naturality and Food Safety, Organic products bring the answer to the culinary expectations of consumers in combination with their values ​​of respect for the environment and sustainability of the agricultural sector.
For 5 generations sustainable agriculture has been our priority. Our organic crops are grown without fertilizers or pesticides, so Darégal's Organic Frozen Culinary Herbs are cultivated with total respect for the natural environment.
Organic Basil
Organic Parsley
Organic Chives
Organic Shallots
Organic Garlic


Come and discover the full range of Darégal's culinary solutions and try our latest recipe, the Asian Blend.
Our 100% natural Culinary Herb Blends will spice up all your dishes!
Try them today!
Our culinary advisors are available to discuss the Exotic and Organic ranges with you in more detail. Contact us for more information.