APPETISER: Darégal is supporting the growth of organic farming through the implementation of an ambitious programme to increase its organic crops by 10% each year. New culinary herbs will be added to the range and new products are entering development so that we can satisfy the growing demand from consumers.
Given its longstanding commitment to its growers in terms of sustainable farming practices, Darégal is set to preview its ranges of organic sauce portions and herb-infused oils (single varieties and blends) at SIAL PARIS 2018.
• CUB'EAZE ORGANIC range > Freshness "Ready-to-Use"
Inspired by the trend for juice and smoothie recipes that promote Enjoyment and Healthy credentials, herb portions deliver the convenience required for preparation "in an Instant".
Made only of culinary herbs in a 7g portion, Cub'Eaze are directly blended with fruit and vegetables to produce 100% natural organic drinks: no flavourings, colourings or preservatives for an intensely TRUE and GREAT taste.
Cub'Eaze are also used in savoury recipes where they add a fresh green bouquet to sauces and soups.
Professionals and consumers alike value Cub'Eaze's lack of product wastage and ease of use in comparison with the daily chores of washing, de-stemming and chopping fresh herbs.
Cub'Eaze Mint
Spearmint with a hint of caraway also revealing a verdant, pine bouquet.
> Pairs well with apple, melon and red berries, as well as cucumber, courgette and artichoke.
Cub'Eaze Basil
Basil offers flavours of clove, delicate notes of aniseed and bergamot.
> Pairs well with red berries, citrus fruits and apricots, as well as soy, fennel and tomatoes.
Cub'Eaze Parsley
Parsley reveals cut grass flavours with a slight note of hazelnut.
> Pairs well with apple, lemon, and nuts, as well as tomatoes, celery and green peas.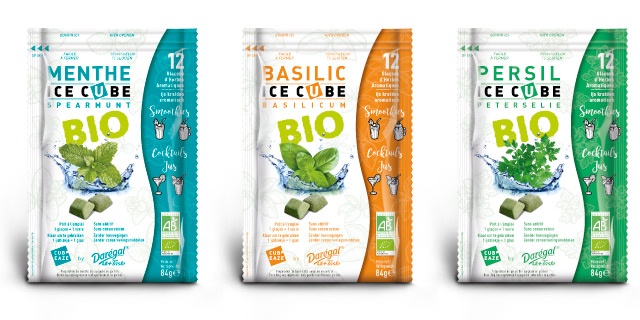 Practical tips
– 160g sachet = 25 squares to use without prior thawing.
-1 square = 1 smoothie (250ml).
– Best Before: 3 years when frozen.
• Flavour'Eaze ORGANIC range > Fresh Top Note
Buoyed by the success of the Flavour'Eaze range of infused oils created in 2016, Darégal's latest product launch is organic infused oils.
Organic Darégal herbs are infused in organic sunflower oil through a gentle natural process. An addition to the range, the ORGANIC Flavour'Eaze versions meet consumer demand for 100% naturally-sourced seasonings.
Unlike a flavoured oil, this Clean Label solution retains the full aromatic flavour of the fresh herbs and plants and features a simple and natural list of ingredients –just sunflower oil and herbs.
As a finishing garnish to a hot meal (e.g. fish fillet), sprayed onto a salad or blended into a cold sauce, you'll enjoy the intensity of the aromas and flavours of the outdoor-grown natural plant.
Basil ORGANIC Flavour'Eaze
Delicate notes of clove spiced by a hint of aniseed and bergamot.
> Pairs well with Mediterranean vegetables, grilled white meat, pasta and will add an original touch to fruit dishes.
Garlic ORGANIC Flavour'Eaze
The initial heat gives way to well-rounded, cooked notes that are suggestive of a crusty loaf.
> Pairs well with mushrooms, pan-fried vegetables, meats and enhances vinaigrettes.
Dill ORGANIC Flavour'Eaze
Introduces notes of carrot tops and aniseed lifted by notes of menthol and citrus fruit.
> Pairs well with raw or cooked fish, and its freshness is wonderful in cucumber or potato salads.
Coriander ORGANIC Flavour'Eaze
Introduces notes of orange and lemon juices which mingle with notes of cucumber and cut grass.
> Pairs well with vegetables and meat, and its lemony notes will enhance raw or cooked fish.
Herbes de Provence ORGANIC Flavour'Eaze
Introduces a nice balance of warm, camphor notes leading to a slightly spicy finish.
> Pairs well with grilled food, vegetables, pasta, and will enhance gratins.
Pepper and Chilli ORGANIC Flavour'Eaze
Introduces sweet and well-rounded notes, leading to a spicy finish.
> Pairs well with red meat, fish and will enhance vegetables.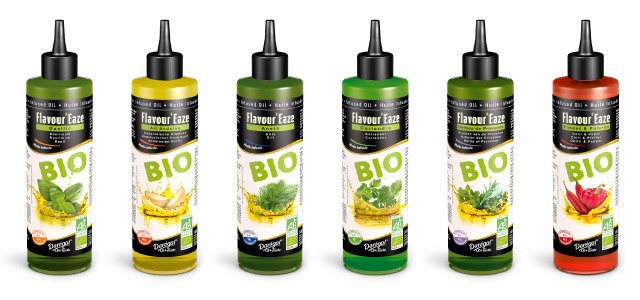 Practical tips
– 250ml bottle with a precision tip.
– Available in the chilled aisle for optimal flavour preservation.
– Best Before: 6 months.
Try them today!
Our culinary advisors are available to give you more details.