World leader in culinary herbs, the DARÉGAL Group today announces the acquisition of À L'OLIVIER group units. Expert in olive oils, infused oils and vinegars, À L'OLIVIER is made up of the Huilerie de Bailly, Huilerie de Neuville, Huilerie Sainte-Anne, the À l'Olivier company, and its stores.
"This is a very important development for the group which brings our number of employees to over 500 , and takes us past the 150 million euro turnover mark", says Charles Darbonne, DARÉGAL Group President.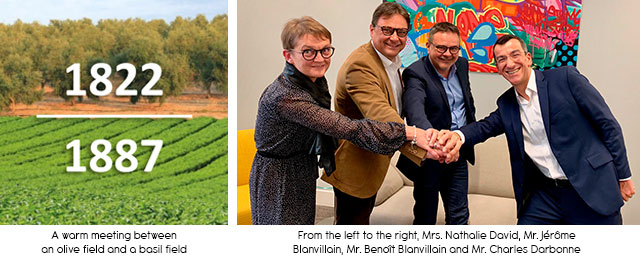 À L'OLIVIER's story began in 1822 in Paris, with the creation of its first shop dedicated to olive oil and its natural properties. Owned by the Blanvillain family since 1978, the À L'OLIVIER group has grown worldwide and now has 4 sites in France and 5 prestigious stores. It selects and provides Grand crus of olive oil, offering the finest quality taste. The group also specialises in the flavouring of olive oils, with a range that today constitutes an essential point of reference on the infused oils market. Elsewhere, with its Poitou mill and Sainte-Anne mill in Grasse it holds renowned expertise in making virgin nut, seed and olive oils.

The coming together of the 2 groups rests first and foremost upon a similar family business culture that places the values of integrity, work and passion around natural products of a high aromatic value, with an emphasis on origin, tradition and the geographic footprint.
Benoît Blanvillain, Bailly Managing Director adds: "Our integration into the DARÉGAL family represents real added value for our customers and employees. They are a trusted partner who share our culture and our values. The coming together of our two entities is an asset in providing high quality services and products worldwide."

There is no doubt that each entity's expertise offers strong complementarities. Commercial synergies will enable the À L'OLIVIER group to grow sales through the DARÉGAL group's international commercial network spanning 46 countries. In addition, synergies on high-end products will serve to fuel future growth and value creation.