APPETISER: GREEN in a glass!
Over the last few years, tasty and refreshing quick-mix prepared drinks have been attracting consumers. They're also riding the wave of the raw and natural food trends. These mixes contain only fruits and vegetables, making them good, refreshing and packed with the benefits of nutrients, vitamins, minerals and more.
Darégal innovates with a range of ready to blend, frozen organic culinary herb cubes that can be added to other ingredients to make 250ml drinks. Give your fruit and veggie smoothies a touch of green with ORGANIC Mint, Basil and Parsley Cub'Eaze. Ready-to-use and available throughout the year, this time-saving solution guarantees an intense and even flavour for snack food professionals.
• Cub'Eaze: the juice market goes green
Juicing with fresh fruits and vegetables is a burgeoning trend, calling for ever greater pleasure, freshness, and well-being. Consumers are buying extractors, juicers or blenders so that they can make their own juice shots at home. The snacking offer seizes on this expectation, providing a wide selection of instant pressed juices prepared ahead of the customer. These drinks are riding the wave of the natural food trend. Consumers love their fresh flavours and multiple health benefits (rich in nutrients, vitamins, antioxidants and more).
• Cub'Eaze: naturally green
With more than 130 years of unique savoir-faire, Darégal selects, grows in open field and harvests culinary herbs at their most mature stage. Darégal's culinary experts chose raw ingredients with the most essential oil content to bring the naturally intense fresh flavours to smoothies and drinks. Made up with only organic culinary herbs, Cub'Eaze are 100% natural, free from flavourings, colourings and preservatives for an intensely TRUE and FRESH taste.

• Cub'Eaze: recipes go green
The Cub'Eaze range consists of 3 delightful varieties to awaken smoothies, juices and detox drinks recipes:
Mint with a hint of caraway reveals refreshing plant and pine flavours.
> It pairs well with apple, melon and red berries, as well as cucumber, courgette and artichoke.
The Nutritionist's* opinion: "Mint is the culinary herb that contains the most polyphenols. Associated with high Vitamin E, B2, C, copper and manganese content, mint is a wonderful cocktail of antioxidants."
Basil offers flavours of clove, delicate notes of aniseed and bergamot.
> It pairs well with red berries, citrus fruits and apricots, but also with soy, fennel and all Mediterranean vegetables.
The Nutritionist's* opinion: "Basil is more loaded with copper and calcium than the average culinary herb. Rich in Vitamin A, B9, manganese and iron, it's a concentrate of micronutrients."
Parsley reveals cut grass flavours with a slight note of hazelnut.
> It pairs well with apple, lemon, and nuts, as well as tomatoes, celery and green peas.
The Nutritionist's* opinion: "Parsley is very rich in Vitamin C and increases iron absorption, which it is also high in! Rich in Vitamin A and B9 as well as manganese, it helps cover your requirements when significant amounts are consumed regularly."
*Astrid Lorcet, Dietician – Nutritionist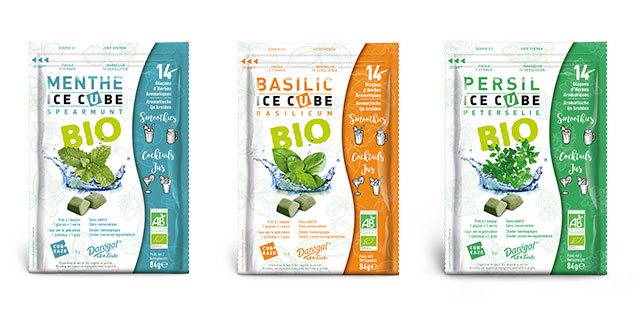 • Cub'Eaze: no need for a green thumb
Cub'Eaze saves time and money! No more tiresome washing of herbs and peeling, and in particular no more waste of unused or wilted parts.
Cub'Eaze products are pre-portioned and ready to use. Pour and blend with other ingredients, and your drink is ready with the guarantee of optimal and regular taste across all your recipes!
• Practicle tips
– Bag of 14 cubes to use without prior thawing
– 1 cube = 1 drink of 250ml
– Best Before: 3 years when frozen
Try them today!
Our culinary advisors are available to give you more details.