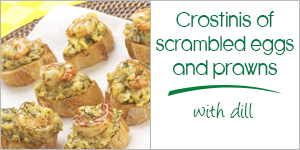 For an unexpected dinner, sophistication and freshness are the key ingredients to those crostinis. Scrambled eggs are all about elegance, while the prawns are a call from the sea. Add to that a glass of champagne!
Ingredients – Serves 4
Farmhouse baguette
6 eggs
200 g frozen prawn, peeled
A knob of butter – salted
1 tablespoon single cream
2 tablespoon Darégal frozen dill
Salt and ground pepper
Preparation time: 5 min – Cooking time: 5 min
Rest: 15 min
Defrost the prawns for 5 minute in the microwawe puissance maximum
In the meantime, break the eggs into a bowl.
Slice the baguette into croutons and toast them
Melt the butter over a low heat.
Add the beaten eggs and keep mixing, then add a pinch of salt of some ground pepper.
It is very important to keep mixing during the whole cooking process which takes approximately 4 minutes.
When the eggs start to look creamy, add the prawns, the cream and 1 tablespoon of dill & gentle combine.
Spread the mixture onto the grilled bread
Sprinkle with dill. Ready to serve.
Enjoy!
Tip
I can replace the prawns with 60g of Roquefort, cut in cubes, and the dill with parsley. Instead of using bread, the scrambled eggs mixture could be served inside the egg shells.