The Daregal Herb Sommeliers spent the winter season finalising the Coriander Collection by Darégal. Over 3 years, they tested, studied and tasted more than 500 varieties of Coriander of which they selected 4 varieties with the most intense flavours and citrus freshness.
For this 5th edition of the Taste Pépinière by Darégal, the Herb Sommeliers created an exceptional aromatic garden full of new flavours and new varieties with subtle notes, some of which are most surprising! Come and take up your place "Chez la Serre" in order to discover these freshly plucked new plants and their different applications.
Let yourself be tempted by the surprings flavours of these new varieties which are sure to inspire.Try the Cheese Plant, a rare herb from Asia, Black Sage with its fruity notes of blackcurrant and Spanish Lavender with its sweet notes which will perfectly enhance your desserts.
As well as the « La Taste Pépinière by Darégal », come and discover the all new Exotic Pépinière, a space which is dedicated to our varieties from around the world. You'll soon discover all the secrets of our exotic varieties such as Combawa, Curcuma and Galangal!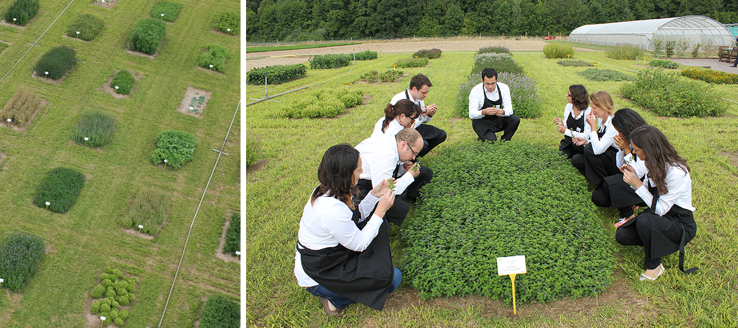 Who are our "Herb Sommeliers"?
Selected for their amazing sensory awareness and their strong culinary knowledge, our Herb Sommeliers come from different departments of the company and are genuine Taste Experts. Fed with Basil, their curiosity is relentless and they are naturally addicted to culinary herbs.
Just like musicians or perfume makers, our Herb Sommeliers have a thorough knowledge of the whole array of aromatic characteristics. They can memorise components and are capable of quickly and easily identifying them.
During the tasting sessions, Herb Sommeliers develop a specific term base for each culinary herb. They study the different perceptions of each one, get involved in their growing and selection process and contribute to the design of blends for different types of culinary herbs.
Encouraged by the expertise of our Herb Sommeliers, our culinary experts will assist you on designing unique gustatory blends and will be able to help with all your requests.